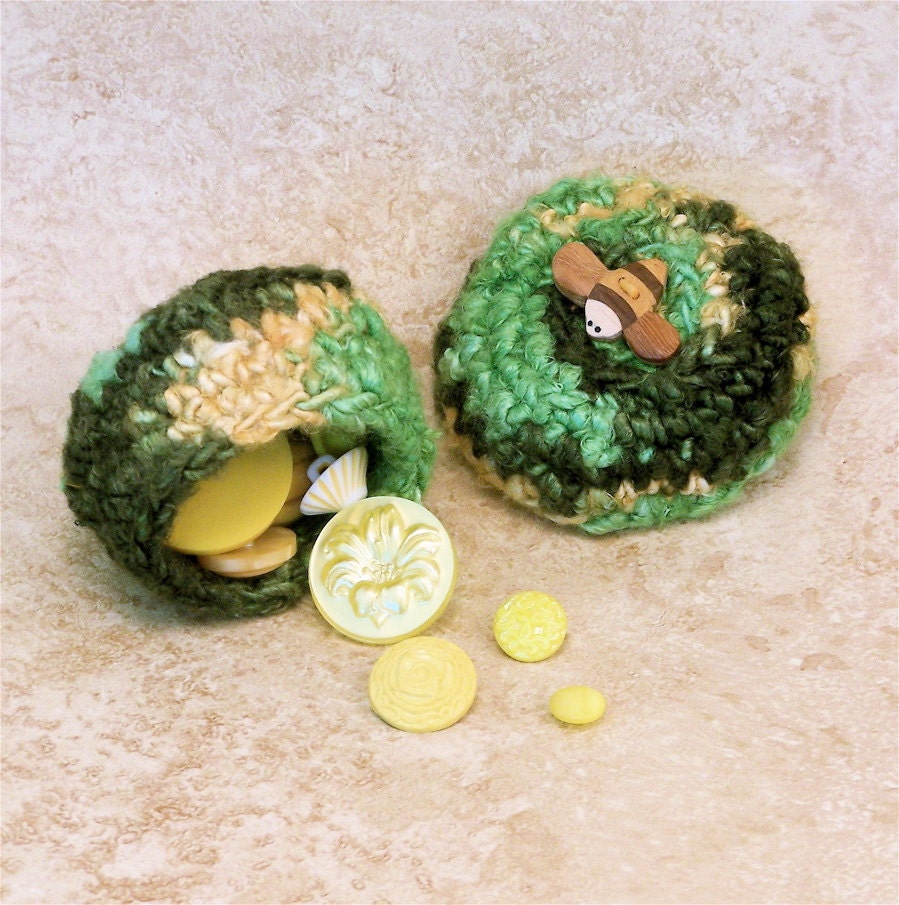 Honey Bee in Flight, a unique handmade round Silk Tapestry Art Box by brizel4TheAnimals, made of vegan banana silk yarn is a sweet gentle fiber arts container featuring eco-friendly silk yarn made from banana fibers.

In variegated tones of greens & yellows, Honey Bee in Flight has a lid of its own which is embellished with a wood marquetry bee button.


Bee has been happily working all day... she's a busy body doing what she loves to do best... buzzing from one flower to the next sipping on delicious nectar and collecting clumps of pollen. There's no doubt about it... she gets an A+ for bee-ing so industrious !


This nature loving mini Silk Tapestry Art Box measures approx: 2 7/8" in diameter x 2 1/4" high with an interior of 2" in diameter x 1 1/2" high. Its raw banana silk weight is roughly 1.3 oz (38 g).


ANiMAL CHARiTY DONATiON

10% of all SILK TAPESTRY BOX sales will be donated to animal charities, notably Team EFA's CHARiTY OF THE MONTH which differs each month. Please visit our team's website to read about this month's charity: efaartistshelpinganimals.org/charities.htm

I own some 20 acres up in the mountains where I have planted orchards and floral gardens. Personal funds are put towards helping to sustain this habitat which attracts birds, butterflies, bees, bats, hummingbirds... and it is also a seasonal mating ground for dragonflies ! Twilight is part of a 2,000 acre ranch out in the chaparral wilderness where wild animals still roam.


I provide a home for my animal rescues, create & maintain habitat for wildlife to prosper, support animal welfare through petition & animal advocacy work, donate 10% of my Silk Tapestry Art Box sales to EFA's Charity of the Month, and promote & support Team EFA members through Etsy Treasuries & the EFA blog. My supply shop: BrizelSupplies is a sponsor for EFA's COTM program. I am also Team Captain, Membership & COTM Leader & Blog Editor for Team EFA !