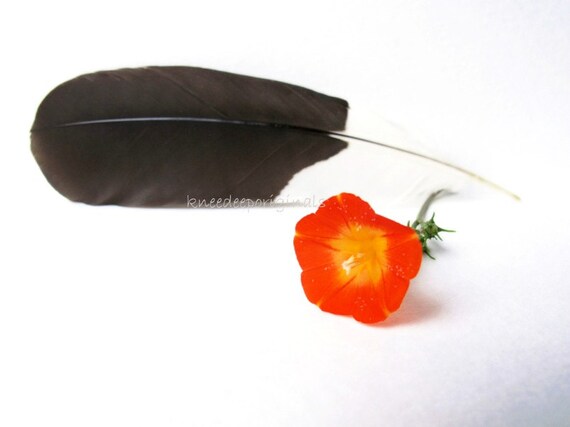 PRODUCT DESCRIPTION
A feather found in the path where I walk my dogs combines beautifully with this tangerine orange flower growing amongst my tomato plants at the end of the summer. Minimalist, yes... but it packs a punch in color and natural beauty. I enjoy photographing these types of things to share their beauty with you. Perfect for a bedroom, a kitchen, or a living space or entryway, this photograph by KneeDeepOriginals is sure to delight viewers.
Title: Simple Pleasures 1
Image size is 8 x 10, and it will be printed, upon purchase, on Epson Ultra Premium Luster photographic paper measuring 8.5 x 11. This paper produces vivid, lifelike images that rival those of traditional silver halide prints. Premium Luster Photo Paper delivers highly saturated prints... just beautiful! Please allow 48 hours after the purchase of the photograph for the ink to completely set before mailing.
PRODUCT PRICE
$20
ANIMAL CHARITY DONATION
100% of the sale of this photograph, minus fees and shipping charges, will be donated to Etsy for Animals Charity of the month.
ABOUT THE CHARITY
For October, this charity is National Mill Dog Rescue which works to rescue abused and unhappy dogs from puppy mills and gives them a chance at a much-deserved happy life with folks who love them as companions and good souls.