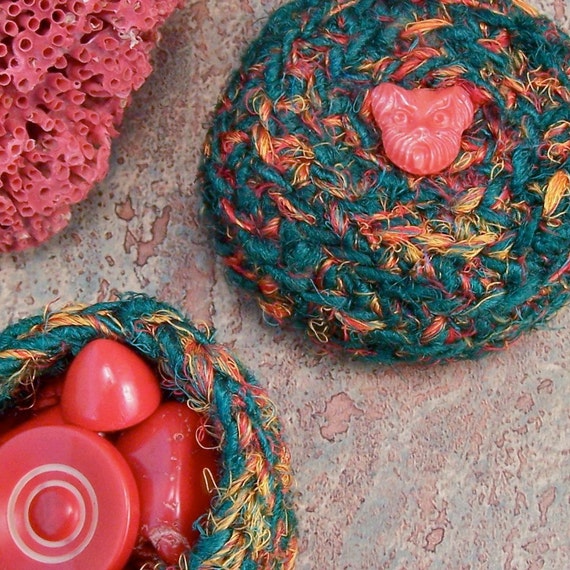 PRODUCT DESCRIPTION
Brizel4TheAnimals
presents Red Dog, a unique handmade round canine Silk Tapestry Art Box, made of reclaimed upcycled silk sari threads, perfect for storing a memory keepsake or as a jewelry keeper !

Red Dog is an exquisite soft fiber arts container featuring a rich forest green silk sari yarn paired with an upcycled orange silk sari yarn that has red & green accents. It has a lid of its own which is embellished with a Czech glass art button of a dog face.


Red Dog is enamored with you. Really. That's why he just stares out in adoration because he's looking for his fur-ever home and he think you are the bees knees. I'm sure this has happened to you before, right ?


This dog-alicious Silk Tapestry Art Box measures approx: 2 3/4" in diameter x 2" high with an interior cavity of 1 3/4" in diameter x 1 3/4" high. Its raw silk weight is roughly 1.2 oz (34 g).


Red Dog will be gift wrapped in its own box and ships, without content, via USPS Priority class INSURED mail. Shipments within the USA will also have delivery confirmations.


PRODUCT PRICE

$88.00

ANiMAL CHARiTY DONATiON

10% of this and all SILK TAPESTRY BOX sales will be donated to Team EFA's CHARiTY OF THE MONTH.

ABOUT THE CHARITY

Because of my involvement with the selection process of Team EFA's Charity of the Month and as the COTM Leader for our team, I choose to support these charities. I am proud of how hard our COTM team works. Veronica of Scrappy Rat insures that each nominated charity meets with EFA's standards and Rebecca of KneeDeepOriginals, our new COTM Treasury Leader, creates a brand new scintillating Treasury each week.

This month our COTM is National Mill Dog Rescue:
www.milldogrescue.org Mill Dog Rescue is a fine organization, doing an incredible job rescuing abused and miserable canines from dog mills and providing them with a new opportunity to live out their life in peace and surrounded with love. It just doesn't get better than this ! Please check them out. Thank you.