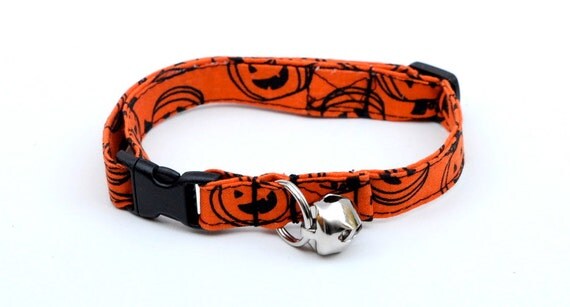 PRODUCT DESCRIPTION
Have a Happy Halloween with this adorable one of a kind
jack-o-lantern cat collar
by
ShortcakeDesigns
!
With an adjustable neck size of 7 to 11 inches this collar is sized to fit most adult cats. The collar is made a a durable safety buckle which is designed to breakaway if your cat becomes tangled or caught during its wanderings either through the house or outside in the neighborhood. As such it should not be used with a leash.
PRODUCT PRICE
$9 .00
ANIMAL CHARITY DONATION
100% of the sale of this collar will be donated to the
National Mill Dog Rescue
.
ABOUT THE CHARITY
The National Mill Dog Rescue (NMDR) makes it a priority to save puppy mill survivors, the parents of those adorable pet store puppies, from a life of neglect and abuse. They then provide ALL necessary medical and dental treatments, and then foster the dogs until they can find their forever home.
I support NMDR because of these good works by donations from my etsy store and by personally helping to spread awareness about the cruelty of puppy mills.
For more information and
National Mill Dog Rescue
or to learn more about puppy mills and pet stores go to:
www.milldogrescue.org/
and visit their FAQ section