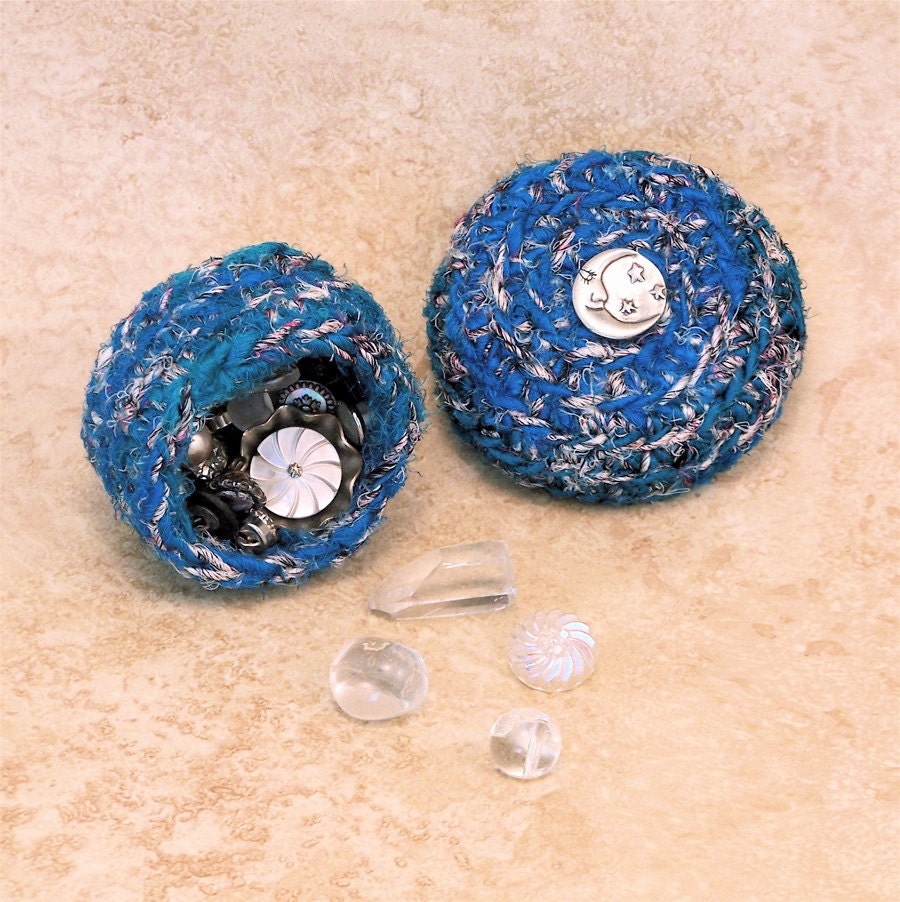 New Moon has risen and her crescent self gazes out dreamingly at the stars. She smiles at them... perhaps its something they said ? Makes me wonder and so i smile as well when i look at her.

Crescent Moon Dreams
is a divine soft fiber arts container by brizel4TheAnimals featuring silk sari yarns... a rich variegated electric turquoise blue paired with a lunar white with magenta & black highlights. It has a lid of its own which is embellished with a pewter metal crescent moon button.

This lunar Silk Tapestry Art Box measures approx: 3" in diameter x 2" high with an interior of 2" in diameter x 1 3/4" high. Its raw silk weight is roughly 1.4 oz (40 g).


***


I own some 20 acres up in the mountains where I have planted orchards and floral gardens. Personal funds are put towards helping to sustain this habitat which attracts birds, butterflies, bees, bats, hummingbirds... and it is also a seasonal mating ground for dragonflies ! Twilight is part of a 2,000 acre ranch out in the chaparral wilderness where wild animals still roam.


I provide a home for my animal rescues, create & maintain habitat for wildlife to prosper, support animal welfare through petition & animal advocacy work, donate 10% of my Silk Tapestry Art Box sales to EFA's Charity of the Month, and promote & support Team EFA members through Etsy Treasuries & the EFA blog. I am also Team Captain, Membership & COTM Leader & Blog Editor for Team EFA !