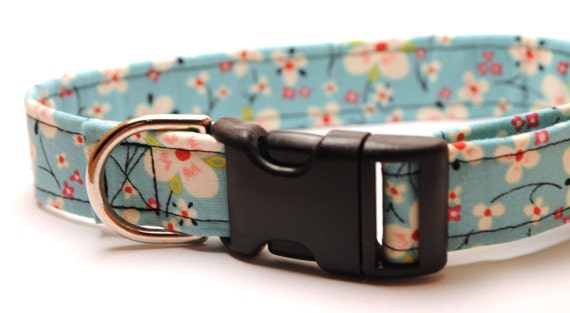 This collar by ShortcakeDesigns is created for any medium sized dog, and with its light blue background with cream and pink cherry blossoms and tiny hot pink flowers this collar is absolutely stunning! Ready for spring! It is made with cotton fabric lined with heavy duty, but light weight interfacing which makes the collar sturdy yet flexible providing a comfortable fit.

Since my house can't possibly hold any more rescues (we have two corgis and two long hair calicos), and I just have to help stray and abandoned animals, I donate all profits from the sale pet merchandise from my etsy store. So far my donations have got to support my local animal center via the
Friends of the Animal Center organization in Iowa City. Additionally, I plan to start supporting the National Mill Dog Rescue organization with my next donation.