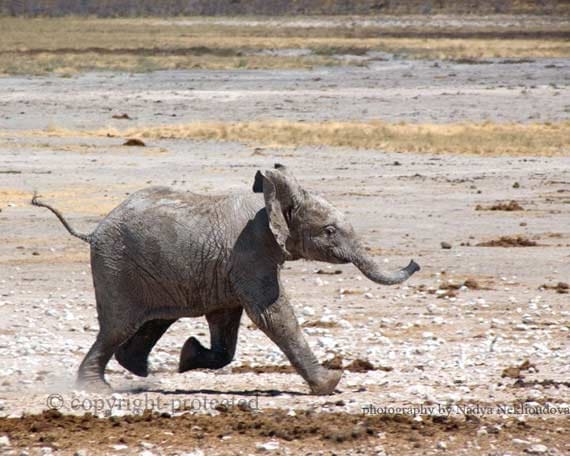 This
photographic print
by
oceloteyes
is 8x10" in size and is retail priced at $20. Custom sizes also available, on paper or canvas.
This baby elephant is just too adorable! A large herd of elephants came to drink at a waterhole in Etosha National Park (Namibia), and I watched them for hours, absolutely mesmerized. Of course, the waterhole was only small, too small for 50 elephants to fit into all at once - so some family groups wandered off to give others a chance to drink... Baby elephants were running about everywhere.
When this little one missed the moment when his mother wandered off a short distance, and noticed her leaving - he trumpeted, trunk up in the air, tail swishing around, and ran after her as fast as he could to round her up and lead her back to the waterhole again!
I support the
David Sheldrick Wildlife Trust
with 10% of sales from all my art/photographs involving African Elephants. The DSWT rescue baby elephants (and rhinos, and other animals) who have been orphaned because of poaching, or have lost their family herds some way or another. These babies grow up in the care of humans, but eventually learn to become wild elephants again and re-integrate into the wild, and go on to have families and babies of their own. For fundraising they run a digital fostering program, which allows you to 'foster' an orphan and get photos and emails about their progress. My family fosters three elephant babies - Sities, Suguta, and Sabachi. You can also visit the DSWT facebook page
here.
I donate 10% of the retail price ($2 in this case) from any of African Elephant images to the DSWT. My photographs are of wild elephants with families - so I want to support the orphaned elephants without families.