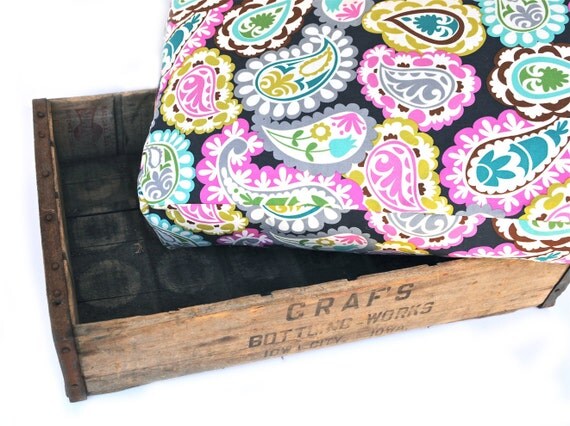 Pamper your pet with this chic
vintage soda crate pet bed
by
ShortcakeDesigns
. Not only does this bed have character, but it also has a unique history! This soda crate was used to ship soda bottles from Graf's Bottling Works.
Graf's Bottling works was located in Iowa City, Iowa from approximately 1850 to 1950 and bottled several types of sodas. This crate features their signature logo. Time has helped create a wonderful rustic vintage feel with the original wording slightly faded and the wood metal accents wonderfully aged.
A great gift for a native or transplanted Iowa resident or anyone who loves to collect vintage soda items!
Dimensions:
19.5 inches by 13.5 inches
4 inches tall inside
The custom pillow is made from cotton fabric which was lined with heavy interfacing for stability and is filled with brand new polyfiber for the ultimate comfy feel. Your cat or small dog will instantly love it!
Ten dollars from the the sale of this bed will be donated to the
National Mill Dog Association
, whose goal is to "To rescue, rehabilitate and rehome discarded breeding dogs and to educate the general public about the cruel realities of the commercial dog breeding industry".
Based in Colorado Springs, Colorado NMDR travels all over the US, to rescue mill dogs, rehabilitate them including major medical care, and find them forever homes where they can learn to be dogs and live happy healthy lives.
Please stop by their website for more information:
www.milldogrescue.org/