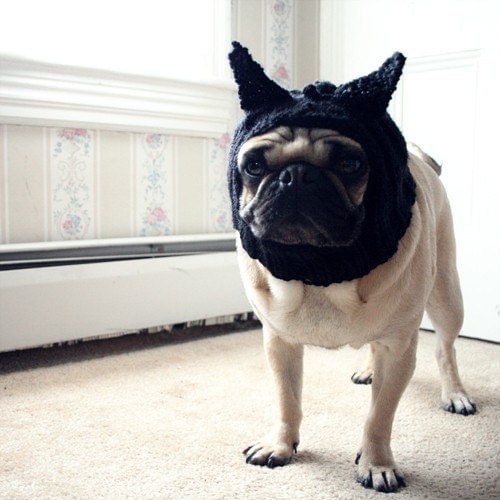 Hark! Who goes there? This little creature is so strange that no one is sure what exactly he is. Some say he is a pug, others a black cat, but there are many who also believe him to be an incarnation of Batman. Could this masked vigilante be the one roaming the streets at night fighting crime?

This Black Cat Hat by jessicalynneart is a great way to allow any dog to show his or her feline or superhero sides.

I do anything and everything I can to help with animals. Running two small businesses while attending college has prevented me from doing as much shelter work as I'd like to, so I do what I can by donating at least $1 of every sale to the Pug Rescue of New England or the MSPCA. I also donate hats, toys, and stationery to shelter and rescue events throughout the year. Aside from that, I am the team's challenge blog volunteer who receives and posts all of your wonderful entries!