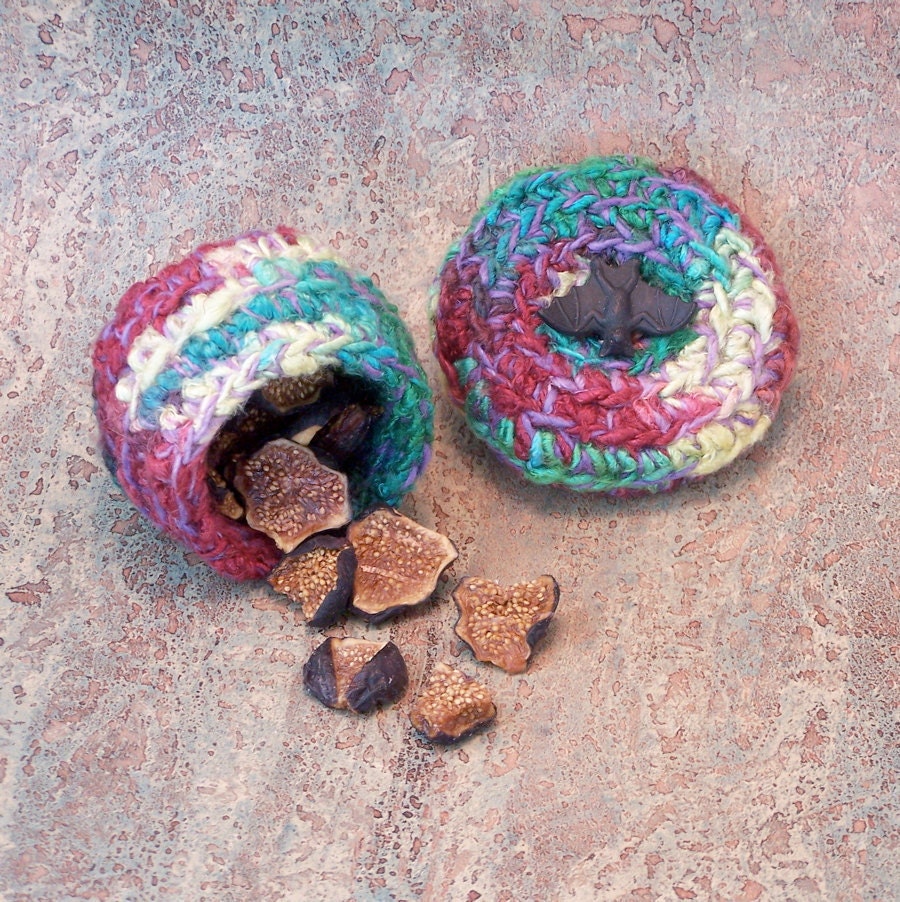 Halloween would not been hallow's eve without bats, flying around & swooping down at sunset. Many folks are scared of this bump-in-the-night creature. Are you ?

Fruit Bat is a exquisite soft fiber arts container by brizel4TheAnimals featuring vegan banana silk yarn in variegated yellows, greens & deep reds paired up with a violet cotton hemp yarn. It has a lid of its own which is embellished with a carved ceramic black bat.

When Bat isn't flying around searching for yummy fruit to eat, she loves to hang upside down to sleep... she's stretching out her wings before folding them up to slumber. In animal shamanism, Bat symbolizes important life transitions... that special time period between the end of a phase and a new beginning... rebirth !

This animal Silk Tapestry Art Box measures approx: 3 1/4" in diameter x 2 1/4" high with an interior of 2 3/8" in diameter x 2" high. Its raw silk weight is roughly 1.8 oz (52 g).

***

I own some 20 acres up in the mountains where I have planted orchards and floral gardens. Personal funds are put towards helping to sustain this habitat which attracts birds, butterflies, bees, bats, hummingbirds... and it is also a seasonal mating ground for dragonflies ! Twilight is part of a 2,000 acre ranch out in the chaparral wilderness where wild animals still roam.

I provide a home for my animal rescues, create & maintain habitat for wildlife to prosper, support animal welfare through petition & animal advocacy work, donate 10% of my Silk Tapestry Art Box sales to EFA's Charity of the Month, and promote & support Team EFA members through Etsy Treasuries & the EFA blog. I am also Team Captain, Membership & COTM Leader & Blog Editor for Team EFA !